What are Pressure cookers? What are they useful for?
A conventional stove top pressure cooker is basically a sealed pot with a locking lid that cooks food faster by building up high pressure and releasing excess steam through the steam release valve. The electric pressure cooker models give you a few more controls over pressure, temperature and cooking time.
The convenience and the speed that this cooking process offers makes them a must have for every kitchen. Interestingly, it is also believed that the food cooks more thoroughly and the antinutrients (like lectins in beans) are destroyed, making it a healthy choice. But this aspect needs more examination…
While pressure cooking, on the surface, seems like a good and healthy way to cook your food, what could be some of the draw back of these popular kitchen gadget?
What are the Issues with Modern Pressure Cookers
The conventional stove top stainless steel pressure cookers and electric pressure cookers have one thing in common: their cooking pot (insert) unfortunately consists of reactive materials that pose a health risk by leaching contaminants. To make matters worse, the extreme force with which steam is locked inside destroys the delicate nutrients – and also taking away the natural flavor and aroma of food.
For these reasons, it is important to choose a pressure cooker not made from metals or chemicals, and one that does not lock steam by extreme force. How can you do that?
Best Stovetop Pressure Cooker: What to look for?
First of all, look to see if the core raw material is non-reactive so there is no risk of leaching. In addition, no glazes or enamel must be used as they contain several toxic chemicals. And then, the pot must be gentle on nutrients – and preferably not lock steam by extreme force. Is there a cooking pot that fulfills these requirements?
Did you know the creator of Miriams Earthen Cookware (MEC) had these very things in mind while making her cookware line? Today, MEC creates top of the line all-natural pressure cookers that are completely inert – non-reactive. The way they make their pots allows for steam to quickly build up but it is not forced to stay inside, rather they feature a unique mechanism that naturally condenses excess steam and sends it right back as water into the food!!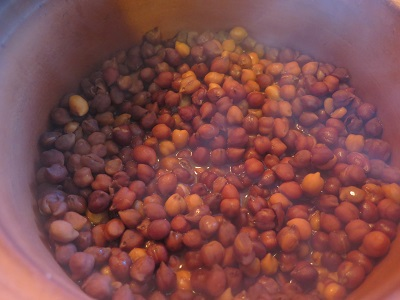 They are also designed to evenly distribute the heat throughout the pot, and their clay radiates far-infrared heat. This type of heat gently cooks food from inside out even at low heat settings, while preserving all the nutrients and breaking down phytates in nutritionally dense food like lentils. A study (which has since been taken down from the world wide web) in India showed how clay pot cooking preserves 100% of the nutrients in contrast to metal pressure cookers which destroyed almost 70% of the nutrients in the Toor dal or Pigeon Peas (Yellow lentils).
The unique ability of the pots to condense steam naturally discussed above, helps preserve water soluble nutrients inside the pot. Thus, food not only cooks faster but also healthier with all the nutrients preserved while cooking in these pots.
So which one do you think is the best pressure cooker: a typical metal pressure cooker that cooks a little faster but destroys most of the nutrients, or one that takes few extra minutes, but cooks quietly and deliciously on lower heat setting, giving you non-toxic, healthy and nutritionally dense food?

If you're interested in a pressure cooker with these kind of benefits, visit our store and choose one of our all-natural pressure cooking pots for the size you need, we have 4 different sizes: the MEC 100% non-toxic small pot, medium pot, large pot and x-large pot.
People Also Ask:
Are stove top pressure cookers safe?
Generally speaking, the modern pressure cooker has several safety features like pressure release valve, steam valve, automatic steam venting, one touch pressure release button, pressure indicator and so on. These measures make those pressure cooker accidents a thing of the past.
However, if your concern is safety of the food cooked in a pressure cooker, even the best pressure cookers in the market may fail, because their pots are made from a reactive material! The only known cookware material that cooks nontoxic and nutritious food on stovetop is MEC's pure clay. Their tested and certified all-natural raw material makes their pots the healthiest cookware for pressure cooking.